Previously, China's vitamin export volume went up for three consecutive months in Oct., Nov. and Dec. 2021 and rose to a yearly high in Dec. Due to implementation of the dual-control on energy consumption & intensity policy, tightening supply of upstream raw materials for vitamins, expected production restrictions for the Winter Olympics and upcoming Spring Festival etc., overseas vitamin consumers increased their purchase volumes and stocked up in advance, pushing vitamin's export volumes up sequentially MoM.
In Jan. 2022, vitamin export volume witnessed a MoM drop. For one thing, overseas vitamin consumers were digesting their stocks owing to overbuying of Chinese vitamin in Q4 2021. For another, vitamin manufacturers and traders cut their pre-holiday export shipments and export prices rose sequentially affected by the upcoming Spring Festival.
Compared with Jan. 2021, China's vitamin export volume & value still achieved yearly growths in Jan. 2022, with volume up 16.32% YoY from 29,453.66 tonnes in Jan. 2021 and value up 29.16% YoY from USD237,262,337 in Jan. 2021.
In Jan. 2022, with the depressed breeding industry and significant losses of pig farming, vitamin downstream consumers aren't proactive in stock preparation despite approach of the Spring Festival in Chinese market. Besides, in overseas market, BASF SE's vitamin supply tightened and demand for vitamin C grew under impact of COVID-19. Therefore, Chinese vitamin manufacturers and traders expanded their export volumes in Jan. to balance supply of vitamin at home and abroad.
Figure China's export volume and value of vitamin by month, Jan. 2021–Jan. 2022



Source: CCM & China Customs


As for export volume, among the 8 selected varieties of vitamins, 7 (VA, VB1, VB2, VB5, VB12, VC and VE) have witnessed decreases in Jan. 2022, with the most significant YoY drop in VA of 39.74% reaching 371.99 tonnes; VB6's volume totaled 784.29 tonnes in Jan., with a slight rise of 1.11% YoY.
Jn Jan. 2022, export prices of 5 (VA, VB1, VB2, VB5, VB12) among selected varieties of vitamins went up MoM. Thereinto, VB2's price rose significantly to USD32,790.32/t, up 33.97% MoM; 3 (VB6, VC, VE)'s prices went down MoM, with the biggest decrease in VB6 of 7.36% totaling USD26,757.22/t.
Notably, in Jan. 2022, Chinese feed-grade VB5's average market price and export price increased by 84.89% and 29.06% MoM respectively, while its export volume decreased by 22.13% MoM.
In Jan. 2022, Chinese VB5 manufacturers and traders stopped quoting or raising their quotations, and VB5's prices of domestic trade and export went up sharply due to VB5's tight supply caused by rising cost & shortage of raw materials and producers' declining operating rates because of electricity & production restrictions, safety production inspection, etc.
Regarding to export destination, in Jan. 2022, the five leading export destination of China's VB5 by export volume were the US (473.94 tonnes, USD7,169,425), Belgium (458.16 tonnes, USD7,293,894), the Netherlands (149.76 tonnes, USD1,641,132), Germany (80.03 tonnes, USD1,075,946) and South Korea (50.64 tonnes, USD635,905).
Figure China's VB5 export volume by destination, Jan. 2022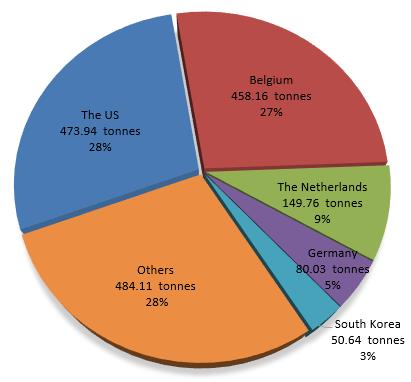 Source: CCM & China Customs
More information about Vitamin import and export please email econtact@tranalysis.com.