China's import volume of corn is continuing to decline in the season of 2016/17, as domestic corn prices are undergoing the world market price. According to the National Grain and Oils Information Center, the import volume will drop by about 37% compared to last year. Trade intelligence firm Tranalysis predicts, that a further decrease of corn imports is inevitable.
China's monthly corn imports from January 2016 to January 2017 (in million U.S. dollars)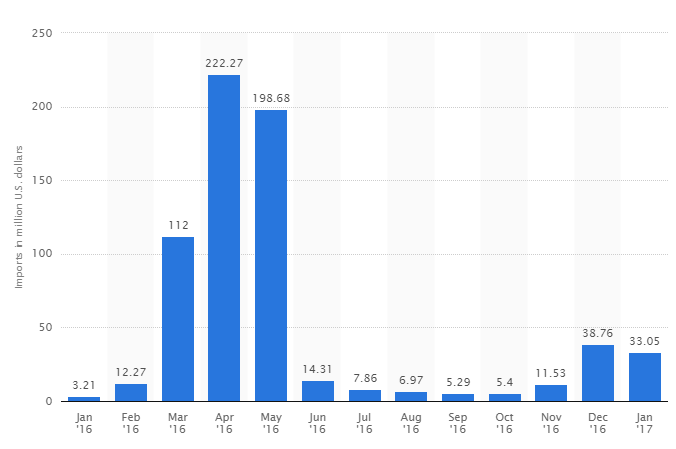 Source: Statista
According to the Chinese Agriculture Outlook Committee (CAOC), China has imported an amount of 800,000 tonnes of corn in the season of 2016 and 2017. This represents a decrease of imports by about 200,000 tonnes compared to the estimation of January.
The main reasons for the dropping imports values are the falling domestic corn prices in China. According to CCM's price monitoring, the price of corn is falling since the second half of 2015. When the Chinese government announced the end of its corn storage and subsidy policy, the corn price dropped even faster. As a result, In the middle of February 2017, China's corn price witnessed a year on year decrease by 28.7%
Not only the corn imports in China fell dramatically, but also imports of corn substitutes, which witnessed a rising import volume in last years, when the high corn price in China was benefitting low price imports from overseas. Tranalysis shows the import decreases for corn and the two substitutes Barley and Sorghum for 2016:
Corn: 3.16 million tonnes, down 33% YoY
Barley: 5 million tonnes, down 53.4% YoY
Sorghum: 6.65 million tonnes, down 37.9% YoY
China's import volumes of barley, sorghum, and DDGS, 2014-2016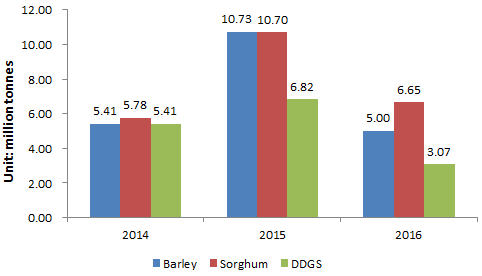 Source: China Customs
In addition to that, the after-tax CIF price of corn imported to China and arriving at the southern ports of the country was about USD247.97/t, which is USD17.50/t higher than the domestic price. According to estimates, the average after-tax CIF price of imported corn will be remaining at USD240.68/t - USD255.27/t the season of 2016/17. Together with China's geographical advantage, the fact of convenient transportation, and the bespoke sufficient supply of domestic corn, a further drop in corn import volume is irreversible, according to the analysis of CCM.
China, the largest market for grains worldwide, is facing the lowest import volume of corn since many years currently. The main reasons can be found in the low domestic price of corn, which even undergoes the price in the world market. This low price is the result of the huge oversupply of corn in China since the country is sitting on large amounts of inventory, accumulated during the now abandoned corn storage policy.
According to trading analysts, the low import volume is likely to last at least until July, when the inventory is going to show significant shrinking and China's domestic corn price may get closer to international prices.
It is not clear what will happen to the import trend after China has mostly utilised its huge corn inventory in the future. As a fact, China's corn often shows a lower quality than overseas ones, which makes the use as feed not possible for this kind of corn. Hence, China may need an increasing import volume in the long run, after the domestic market has adjusted to international standards.
About Tranalysis:
Tranalysis is an intelligence and analysis provider on import/export data covering over 15 industries in China. For more trade information of vitamins, including Import and Export analysis as well as Manufacturer to Buyer Tracking, contact our experts in trade analysis to get your answers today.
For more information about Tranalysis, please visit our website or get in touch with us directly by emailing econtact@tranalysis.com or calling +86-20-37616606.