Summary: In April 2022, China's vitamin export volume and value declined by 18.43% MoM and 16.25% MoM respectively.
Data from China Customs shows that in April 2022, China's vitamin export volume totaled 25,373.05 tonnes, down 18.43% MoM vs. 31,107.61 tonnes in March; export value amounted to USD239,910,793, down 16.25% MoM vs. USD286,476,527 in March.
In 2022, vitamin export volume in China rebounded in March but fell again in April after falling consecutively in Jan.–Feb.
Reasons for drops in vitamin exports in April:
On the one hand, in China, due to the weak downstream demand from feed, vitamin manufacturers' production enthusiasms were not high, and industrial operating rates were low. Exports of manufacturers and traders mainly focused on the delivery of early orders, so the export volume reduced; inland freight of vitamin was negatively affected by the resurgence of COVID-19 since March; production and delivery of some large vitamin exporters were impacted by the epidemic. According to the market news, Jilin Beisha Pharmaceutical Co., Ltd.'s operating rate and output of vitamin E decreased significantly, and the delivery of export orders was delayed due to COVID-19 outbreak.
On the other hand, foreign vitamin consumers continued to digest their inventories and were reluctant to place new orders as they bought a lot of China's vitamin in Q4 2021; as international oil price rose driven by the Russia-Ukraine war, shipping prices rocketed, pushing up the export cost, thus bringing the export volume down.
Figure China's vitamin export volume and value by month, Jan. 2021–April 2022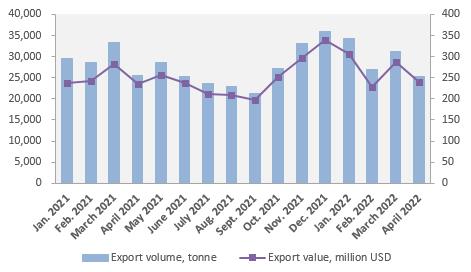 Source: China Customs & CCM


As for the export volume in April 2022, among the 8 selected varieties of vitamins, 6 (VB1, VB2, VB5, VB6, VC and VE) saw MoM declines, with the biggest drop of 28.75% in VB5 totaling 673.65 tonnes; 2 (VA, VB12) witnessed MoM increases, with the significant rise of 35.67% in VB12 reaching 57.34 tonnes.
In early 2022, newly-built 3,000 t/a vitamin B12 lines in the Heilongjiang Bio-fermentation Base (Phase II) of Zhejiang NHU Co., Ltd. was under commissioning stage, with production load gradually increased and some products launched on the market and even exported.
According to China Customs, vitamin B12 in Heilongjiang Province was exported for the first time, with the export volume of 61.51 tonnes and value of USD1,018,435 in Jan.–April, making Heilongjiang the largest province in export volume.
By month, Heilongjiang Province's vitamin B12 export volume and value showed an upward trend. In Jan., the export volume and value totaled 2.01 tonnes and USD33,302 respectively, rose to 26 tonnes and USD432,012 in March, and increased further to 33.50 tonnes and USD553,121 in April.
Figure China's VB12 export volume by destination, Jan.–April 2022



Source: China Customs & CCM


Source:CCM
For more information please email econtact@tranalysis.com.