China is getting strict on importing infant formula products. Furthermore, the country is fighting smuggling of health care commodities. E-commerce is the largest sales channel for infant formula in China and also preferred as the entry gate to China.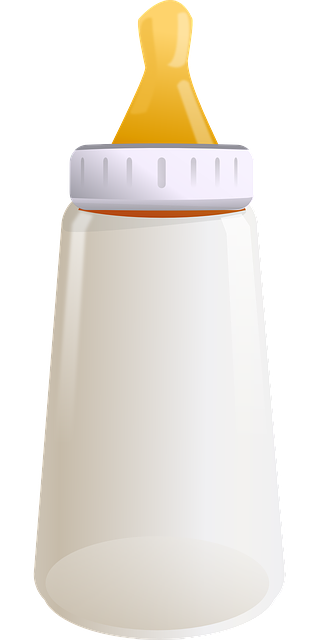 Source: Pixabay
China's General Administration of Quality Supervision has recently published a list of restricted good and cosmetic to import into China's market. Among the commodities are also 14 batches of dairy products and 3 infant formula powders.
As a result, China's Customs has stopped about 37,000 tonnes of infant formula at the border from entering the country, due to lack of certifications and qualification documents. The infant powder was coming from Swiss' dairy producer Hochdorf and New Zealand's' A2 milk.
According to the company, the returned products have been whole milk powder instead of infant formula powder. It was lacking health certificates by the local government.
It is expected by insiders, that the return of A2 milk's products may damage the reputation of its brand in China's market and will have an effect on further formula registrations. This would be a hard setback for the company, which was recently enjoying surging demand by Chinese consumers, who prefer foreign health products like infant formula powder over domestic brands.
According to China Customs, other dairy products that are forbidden to enter the country are among others cheese sticks from Lithuania with excessive carnauba wax and sorbitol, gorgonzola cheese from Italy containing excessive penicillium as well as Le Brie and Blavet cheese from France stating excessive coliform bacteria.
What's more, in China's province Fujian a smuggling ring for baby formula and health supplements has been caught. The value of the smuggling products is stated by around USD22 million. 23 suspects involved in the case have been arrested so far.
China's surging demand for overseas baby powder has caused criminal ways of supplying the goods like smuggling. Hence, China's Customs and authorities are working hard to enable a clear and smooth import situation for health care products and infant formula.
The smugglers used to hire people that will carry the products across the border. It is described by officials as hidden, sophisticated, smart, and diversified work.
A similar case already happened at the end of 2016, when 19 people have been arrested for selling hundreds of tonnes of expired milk powder in China. The suspects have used expired dairy products by the famous New Zealand enterprise Fonterra to repack and sell the products on a lower price than the market.
As an answer to overwhelming overseas healthcare products, China also wants to implement a very tough cross-border e-commerce law. The new law will require strict and complex licensing and labelling measurements for these products imported to China. The implementation was delayed recently, while China is still discussing free trade agreements with import trade partners like New Zealand and Australia.
While Australia companies are appreciating the backdown of China's authorities, it will certainly also be received beneficial in other major exporting countries like Japan, South Korea, Europe and North America, which are all benefiting from surging Chinese demand for quality consumer goods and food imported to China via cross-border e-commerce platforms.
After all, the cross-border trade in China has reached the significant number of 6.3 trillion RMB in the year 2016, which is double the amount than about three years ago.
E-commerce was granting a share of 31% of all sales channels for infant formula in China in the first half of 2016. E-commerce businesses can thank their share increase to their convenience of ordering and delivery to the house, together with the easiest price comparison online and also the cheapest prices in general. Business to customer sales makes up two-third of the whole e-commerce business of infant products, opening chances especially for small brands and companies with an online distribution channel.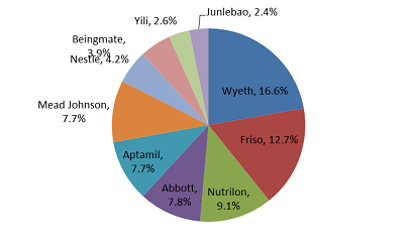 E-commerce is the fasting growing channel for infant formula in China. It is remarkable, that the online sales of infant formula is dominated by mostly foreign brands, namely 7 out of the top 10 are foreign ones. The only Chinese brands in the top 10 are Beingmate, Yili, and Junlebao.
China's infant formula import 2016
China's dairy imports have recovered in the year 2016 again. For example, the import volume of whole milk powder to China was able to surge about 18% in this period.
Rising imports, also including online sales from overseas, are threatening the domestic brands. In the year 2016, China imported more than 221,000 tonnes infant formula, which represents a year on year increase of 25.8%. The most popular exporting countries, making up almost 75% of total imports in China, are the Netherlands, Ireland, France, Germany, New Zealand, and Australia.

The graphics show the data of the 10 biggest exporting nations of formula milk powder in share and export value. This shows, how monopolised China's import situation is, with the biggest focus on the Netherlands in overall imports. The total import value exceeded 3 billion USD, with over 1 billion coming from the Netherlands alone.
China combined dairy import requirement now places it in a position to influence world prices. The outlook for dairy imports looks positive despite some slowdown in the overall economy.
About Tranalysis
Tranalysis is an intelligence and analysis provider on import/export data covering over 15 industries in China. For more trade information of pesticides, including Import and Export analysis as well as Manufacturer to Buyer Tracking, contact our experts in trade analysis to get your answers today.
For more information about Tranalysis, please visit our website or get in touch with us directly by emailing econtact@tranalysis.com or calling +86-20-37616606.